This month Norwegian Statoil began deploying the first of a new kind of oceanic wind turbines, termed Hywind . To date, offshore wind turbines have all been set on the sea floor, in shallow water. Hywind is a floating turbine, that can be anchored in deeper water (up to 1000 meters), and farther offshore.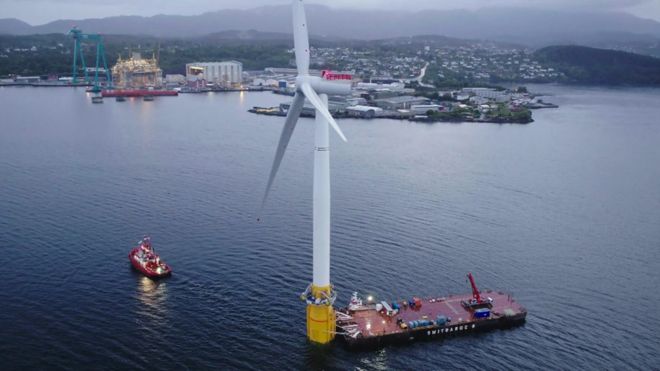 These babies are monstrously large, 175m high and 50 m below the surface. How does this giant pinwheel stand stably enough to actually work? It's bouncing on the waves and blowing in the wind.
"Statoil says the blades harness breakthrough software – which holds the tower upright by twisting the blades to dampen motions from wind, waves and currents." [1]
Cool!
Though you hate to think about a catastrophic failure, where one of these breaks free or capsizes.
This is an important improvement for offshore wind energy. Aside from opening a lot more area to potential exploitation, it also can help get the turbines away from sensitive areas, such as nesting areas and golf courses.
On the other hand, it also enables these giants to be deployed in new places with new costs. I'm not too worried about messing up ocean tides and winds (I think mother nature will win this fight.) But a bunch of 20+ story sky scrapers with giant rotors is surely a hazard to shipping and aircraft.
There is no such thing as "no impact" on the environment.
There may be harm to sea life and birds. Land based wind turbines are known to slaughter large numbers of birds. Marine systems probably will, too, but we'll never know because it's hard to find the bodies that fall in the water.
I don't know about fish and other sea life. Like oil derricks and other structures, ocean life will adapt, some species will thrive, others may have to alter their behavior. There will be a lot less chemical pollution than oil platforms, but probably similar to large ships (which is hardly zero).
Who knows about noise pollution? Turbines are noisy, which may or may not be a problem for aquatic life.
---
Roger Harrabin, World's first floating wind farm emerges off coast of Scotland. BBC News – Business.July 23 2017, http://www.bbc.com/news/business-40699979