As I have said a number of times, these days engineering and design students really should learn origami.  So many interesting designs are coming out based on fold sheets, sometimes self-assembling, and sometimes bio-inspired. And in every case, elegant.
Case in point: an interesting idea being developed by Prevalent (Australia):  "Soligami", an origami inspired window shade with photovoltaic patches to generate solar power [1].   This is designed to work in urban windows, so city dwellings can be more self-sufficient [2].
The basic idea is to create a window shade that captures part of the sunlight to create electricity, letting some of the light bounce through for indirect illumination. A simple window shade reflects some light, which is basically wasted.  A PV window coating generates electricity but dims the light to the interior, and generally is not adjustable.  The PV blind system seeks to get the advantages of controllable shade and privacy, while generating electricity from the sunlight.
One of the key challenges is to capture some of the light, while letting some through.  IN addition, it is important to capture enough light to be useful, and to work throughout the day, i.e., as the geometry of the sun and window vary.
This is a job for geometry!
The design involves folded a grill though which the sunlight reflects off sever surfaces and then into the room.  PV collectors are located on some of the internal surfaces where the sunlight is reflected.  The holes in the grid reflect from a range of angles, acting as a partial concentrator.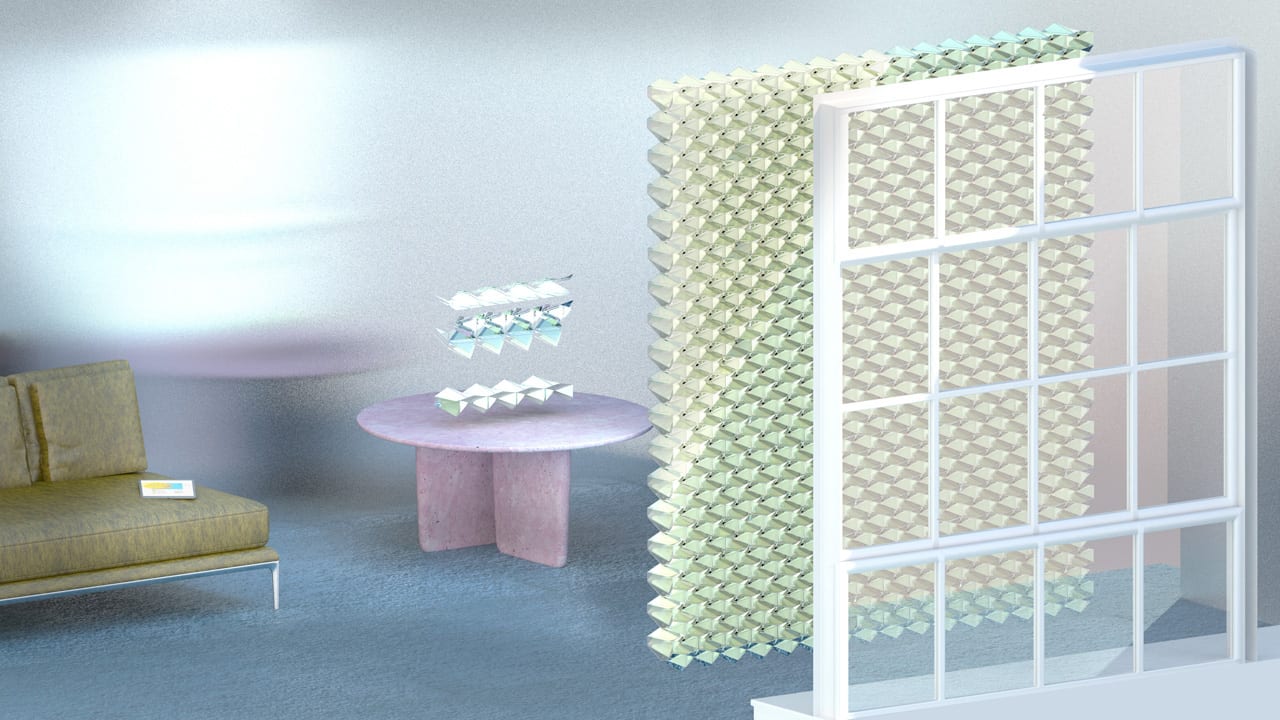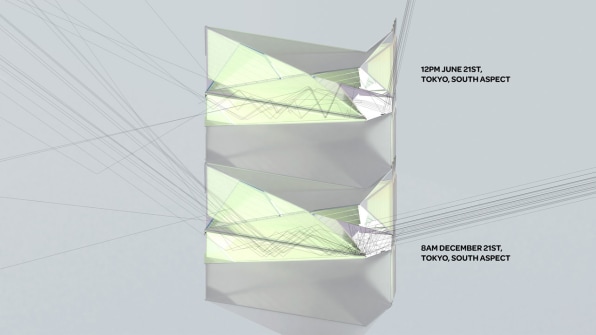 The overall screen is designed to fold flat and open to the grid, in the style of origami.  It looks like the geometry of the cuts and folds helps give the screen enough rigidity to hang as a screen over the window, will little other structure needed.
This looks cool, and is said to be in development for mass production.  I suspect that this hybrid material and complex geometry present some interesting challenges.
I'm pretty sure that the basic concept can be realized in a variety of materials, and with different geometries.  So there is plenty to experiment with here.
I'll also toss in some pragmatic challenges that will be important for a real world product.
I wonder how you can keep the PV surfaces clean.  I don't know about you, by my window blinds are always dusty, and it's not that easy to get the dust off.  Dust and dirt will degrade the efficiency of the PV units on the blinds, and cleaning them looks to be a fiddly process. (Run a duster through each hole?)  And you don't want to be too rough, lest you scar the PV units or warp the panels.
Is this device is intended to open and close, e.g., to raise out of the way and lower again?  If so, then the folding must be rugged and stand up to repeated iterations.  For that matter, it needs to stand up to bumps and abrasions.  In general, it needs to be tough enough to survive in a space with humans (and possibly pets).
Looking at the geometry in the illustrations, it looks to me like the basic concept can work at many scales, i.e., with holes larger or smaller.  Changes in scale will change the amount of light emitted, and the surface area of the PV surfaces.  Of course, there are trade offs, including more wiring, limits on the mechanics of folding for different materials, and so on.  In other words, there is a pretty large design space to explore here.
This is very cool.  I look forward to seeing how this comes out.
---
Pervalent. Solgami: Solar Origami Scree. 2019, https://www.solgami.com/.
Adele Peters, This origami screen turns your windows into solar panels, in FAst Comapny. 2019. https://www.fastcompany.com/90303314/this-origami-screen-turns-your-windows-into-solar-panels-without-blocking-light