Of all the wondrous dinosaurs, surely the ancient fliers are the most awe inspiring.  At the same time as ancestral birds and close relatives evolved near the ground and up into the air, a whole other group of animals, the pterosaurs and pterodactyls soared over the heads of the dinosaurs.
Some of the largest animals ever to fly, they must have been awesome to see.
This summer a group from the US reports a new find, a pterosaur fossil from Utah [1].  With a 1.5 m wingspan, this find is significantly earlier (late Triassic, circa 200 million years ago—long before the classic dinosaurs species we all know) than other pterosaurs. It was also found in sandstone from a dry, desert environment, while other finds have been in marine environments in Europe [2].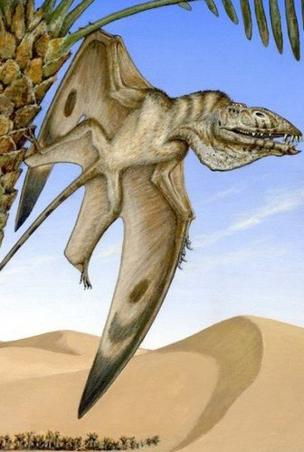 It isn't difficult to believe that large flying animals could spread to many environments, and also evolve to specialize for, say hunting fish.  So we can see that this family may well have lived in many places, for a long time.  But what we have generally considered the "normal" lifestyle of the pterosaurs—cliff side nesting along shores, eating fish—may well be a successful specialization of a much more diverse family.
Which all goes to show that we need to be very careful about over interpreting the sparse fossil record.  Previous evidence only included marine pterosaurs from much later.  We now know that interpreting this as evidence that the species did not live elsewhere much earlier was incorrect.
---
* For some, this species is technically not a "dinosaur". But it's a large, ancient, school-of dinosaur, so that's close enough for me.
---
Brooks B. Britt, Fabio M. Dalla Vecchia, Daniel J. Chure, George F. Engelmann, Michael F. Whiting, and Rodney D. Scheetz, Caelestiventus hanseni gen. et sp. nov. extends the desert-dwelling pterosaur record back 65 million years. Nature Ecology & Evolution, 2018/08/13 2018. https://doi.org/10.1038/s41559-018-0627-y
Mary Halton, Winged reptiles thrived before dinosaurs, in BBC News – Science & Environment. 2018. https://www.bbc.co.uk/news/science-environment-45171201