As I have remarked many times, back when I was a young dinosaur enthusiast, we learned that we could never know much about the soft parts of ancient animals. Only bones and occasional imprints would be preserved in fossils, we were told.
Well, these days we are recovering many, many traces of flesh, skin, and feathers, and learning all kinds of things such as what color these ancient animals actually were.  Whoa!
This winter there is yet another wonderful find, this time the skin and tissue of a Jurassic ichthyosaur.  These animals visibly resemble porpoises and other whales, suggesting the results of convergent evolution toward highly optimized ocean swimmers.
The newly examined fossil contained traces of the skin and flesh of the animal, which strongly resemble the scaleless skin and blubber found in contemporary whales.  As the researchers say, the resemblance to whales "resemblance is more than skin deep " ([1], p. 1)
In contemporary animals, insulating blubber is a "a hallmark of warm-blooded marine amniotes", so this study provides the first direct evidence that these animals were warm blooded like whales.
The study also detected pigments indicating dark skin on the back (toward the surface).  This might have been camouflage and or might have contributed to thermoregulation.  The camouflage might protect against "flying pterosaurs, attacking from above, and pliosaurs (even bigger marine reptiles), which would have attacked from below". It's not easy being  an ichthyosaur!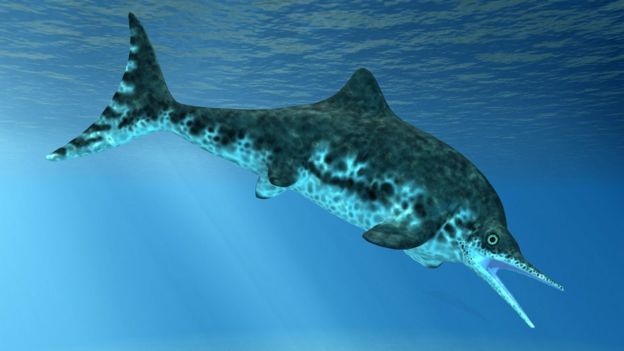 Overall, the fossil remains are quite similar to contemporary whales and sea turtles. These species are only distantly related, so this is a pretty clear case of convergent evolution.
Cool!
---
Johan Lindgren, Peter Sjövall, Volker Thiel, Wenxia Zheng, Shosuke Ito, Kazumasa Wakamatsu, Rolf Hauff, Benjamin P. Kear, Anders Engdahl, Carl Alwmark, Mats E. Eriksson, Martin Jarenmark, Sven Sachs, Per E. Ahlberg, Federica Marone, Takeo Kuriyama, Ola Gustafsson, Per Malmberg, Aurélien Thomen, Irene Rodríguez-Meizoso, Per Uvdal, Makoto Ojika, and Mary H. Schweitzer, Soft-tissue evidence for homeothermy and crypsis in a Jurassic ichthyosaur. Nature, 2018/12/05 2018. https://doi.org/10.1038/s41586-018-0775-x
Paul Rincon, Fossil preserves 'sea monster' blubber and skin, in BBC News- Science & Environment. 2018. https://www.bbc.com/news/science-environment-46457674
Good names for a band:
Fossil blubber
Jurassic ichthyosaur