At the same time that the bees are disappearing and dying out, the ice is melting—everywhere.
In recent years, there have been a number of careful studies using remote sensing data and computational simulations of ice in Greenland and Antarctica.  These studies show that Greenland is melting everywhere at an accelerating pace.  This trend has been confirmed by close up, in situ, studies of the ice and sea.
The studies of Antarctica show a more complex picture, with some areas experiencing rapid retreat of glaciers, and other areas apparently holding steady.  There have been relatively few in situ studies—Antarctica is a huge space, very far away, and very hard to visit.
This spring the US National Science Foundation and UK Natural Environment Research Council announced a joint expedition to intensely study the Thwaites Glacier in Antarctica.   The International Thwaites Glacier Collaboration (ITGC) will include measurements of the surface and interior of the ice, the ocean, and the local atmosphere.
Thwaites Glacier has been observed from space to be changing rapidly, shedding ice into the ocean, and apparently thinning.
This expedition will flesh out a much more detailed picture of what is really happening, and possibly better predictions of the future of this ice.
The BBC indicates that if this rapid change leads to a complete collapse, the melt water from Thwaites would raise the average sea level by 80cm—knee deep.  It would be nice to know if such a collapse is immanent, no?
The research activity will include a variety of studies including drilling (to study the history of the ice, rock, and sediments), measurements of the ocean (including deployment of the submersible Boaty McBoatface and sensors attached to marine species), and radar and other sensors.  Cool!
One of the key questions remains the interaction of the relatively warm ocean and the ice.  Studies have shown that in some cases the ocean is invading farther under the ice, changing the grounding line.  The expedition will collect close up measurements of the glacier, to determine what is happening under the ice.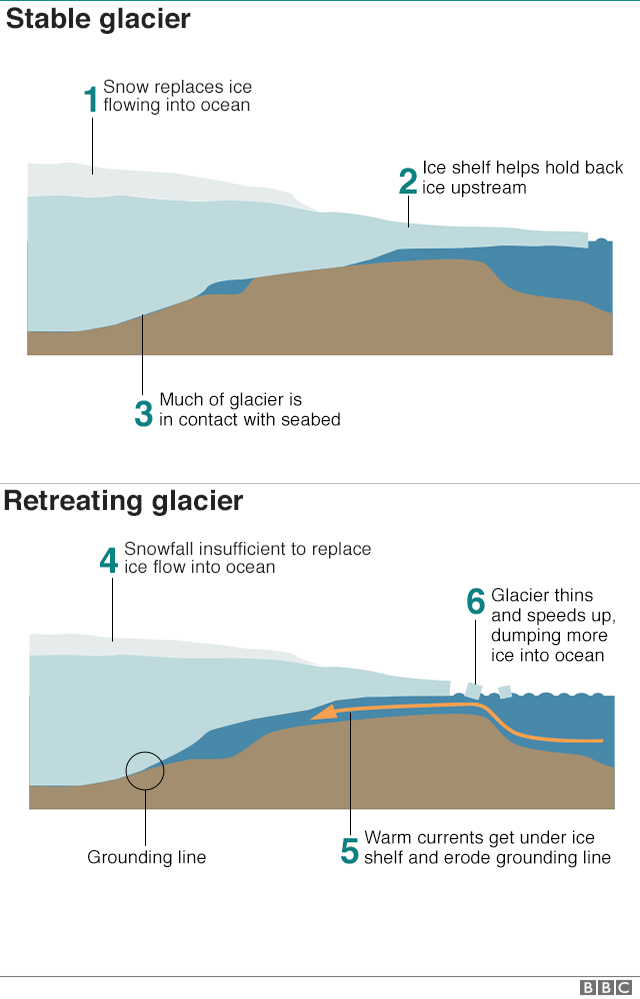 I don't know if this actually is the "Biggest ever Antarctic field campaign", but it is certainly a major effort, and the biggest in recent decades.
It will be interesting to see the results from these studies in the coming years.
---
Jonathan Amos, Thwaites Glacier: Biggest ever Antarctic field campaign, in BBC News – Science & Environment. 2018. http://www.bbc.com/news/science-environment-43936372
National Science Foundation, US and UK join forces to understand how quickly a massive Antarctic glacier could collapse, in NSF News Release. 2018. https://www.nsf.gov/news/news_summ.jsp?cntn_id=245261