Regular readers know that I love dinosaurs.
T. rex. Avian and bird-like dinos.   Stegosaurs. Triceratops. So cool!
And how about ankylosaurs, the wild family of armored dinosaurs.
This month Caleb Brown and colleagues report on an astonishingly well-preserved fossil of an ankylosaur discovered in Alberta [1]. The specimen was tagged Borealopelta markmitchelli, and lived about 110 million years ago.
The animal was about the size of a rhinoceros or moose. It's back and neck are covered with hard, spiky armor, so characteristic of ankylosaurs.
The biggest news, though, is that the scales are so well-preserved that it is possible to discern the pigments that indicate the skin color. These observations indicate that the Borealopelta had a camouflage scheme similar to deer and other heavily hunted species. The color scheme appears to be a darker brown on top, with light underbelly.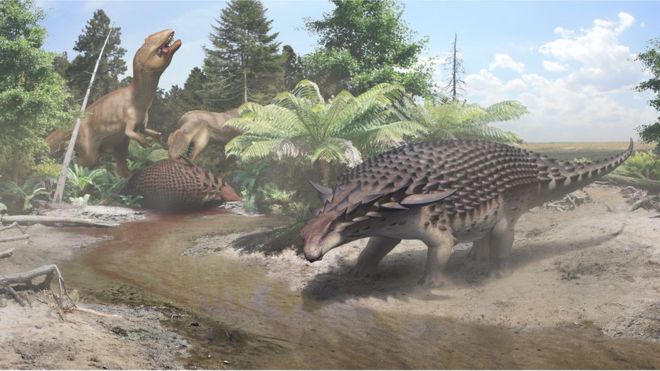 The researchers indicate that the color scheme is an important indication that these animals were under significant pressure from predators. The "armor" of anlyosaurs has long been assumed to be defensive, though no direct evidence of predation is available. The new evidence of coloration suggests that this was indeed the case.
"Preserved evidence of countershading suggests that the preda- tion pressure on Borealopelta, even at large adult size, was strong enough to select for camouflage from visual predator." ([1], p. 6)
The paper points out that in living species, larger animals do not show countershading, nor to smaller animals with defensive equipment. The Borealopelta is large, yet still has both armor and camouflage. The researchers conclude that this means only one thing: they were prey for large, powerful, and visual hunters. The obvious candidates are theropods. What else could bring down such a large, heavily armored beast?
"Finding a large, heavily armored herbivorous dinosaur is the most concrete evidence, therefore, for intense predation on very large prey in the Mesozoic." ([1], Supplemental Discussion)
Neat!
---
Caleb M. Brown, Donald M. Henderson, Jakob Vinther, Ian Fletcher, Ainara Sistiaga, Jorsua Herrera, and Roger E. Summons, An Exceptionally Preserved Three-Dimensional Armored Dinosaur Reveals Insights into Coloration and Cretaceous Predator-Prey Dynamics. Current Biology, http://dx.doi.org/10.1016/j.cub.2017.06.071
Sarah Gabbott, Armoured tank-like dino used camouflage to hide, in BBC News – Science & Environment. 2017. http://www.bbc.com/news/science-environment-40815935