This winter researchers from Europe report a fascinating find from a salvage archeology site in Denmark, a piece of birch pitch that was chewed by a woman approximately 5,700 years ago.  The interesting thing is that the tarry pitch evidently preserved the traces of tissue and microbes from her mouth, sufficiently well that the DNA could be sequenced [2].   Wow!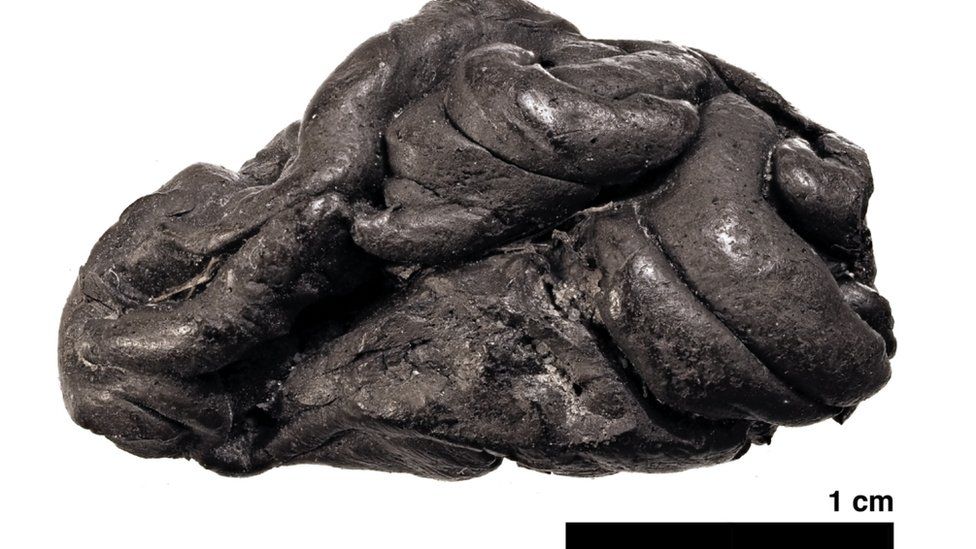 "In the process of chewing, the DNA becomes trapped in the pitch where it is preserved due to the aseptic and hydrophobic properties of the pitch which both inhibits microbial and chemical decay." ([2], p. 7)
My first question was, how did they recover the DNA?
As far as I can tell, the saliva and whatnot were just folded into the tar, which sealed over and preserved it.  Carefully dissolving samples of tar release the trapped DNA.
Cool.
This sample provides an amazing window into the person who chewed the tar.  She was female, and probably beautifully brown skinned. Age unknown.  Statistics suggest she was related to populations from central Europe, though she lived in Denmark at a time when Neolithic farmers were taking over.
The samples also include DNA from many microbes, mostly the normal contents of her mouth.   There are suggestions of gum disease and possible pneumonia.  My impression is that the outstanding thing is that it is very similar to contemporary humans.  I don't know much about this biome, but I have to assume that this sample would be of interest to the study of the evolution of these symbiotic microbes over the last 5,000 years.
There were also traces of DNA from ducks and hazelnuts, which the researchers attribute to a recent meal. She probably wasn't lactase tolerant, suggesting that her people were not dairy herders.  Her genome is related to hunter gatherer groups, indicating that groups from the south were still present in Scandinavia as the development of farming began.
"The genomic information preserved in chewed pieces of birch pitch offers a snapshot of people's lives, providing information on genetic ancestry, phenotype, health status, and even subsistence. In addition, the microbial DNA provides information on the com-position of our ancestral oral microbiome and the evolution of specific oral microbes and important human pathogens." ([2], p. 7)
Very interesting.
---
Helen Briggs, DNA from Stone Age woman obtained 6,000 years on, in BBC News – Science & Environment. 2019. https://www.bbc.com/news/science-environment-50809586
Theis Z. T. Jensen, Jonas Niemann, Katrine Højholt Iversen, Anna K. Fotakis, Shyam Gopalakrishnan, Åshild J. Vågene, Mikkel Winther Pedersen, Mikkel-Holger S. Sinding, Martin R. Ellegaard, Morten E. Allentoft, Liam T. Lanigan, Alberto J. Taurozzi, Sofie Holtsmark Nielsen, Michael W. Dee, Martin N. Mortensen, Mads C. Christensen, Søren A. Sørensen, Matthew J. Collins, M. Thomas P. Gilbert, Martin Sikora, Simon Rasmussen, and Hannes Schroeder, A 5700 year-old human genome and oral microbiome from chewed birch pitch. Nature Communications, 10 (1):5520, 2019/12/17 2019. https://doi.org/10.1038/s41467-019-13549-9
Knvul Sheikh, What a 5,700-Year-Old Wad of Chewed Gum Reveals About Ancient People and Their Bacteria, in New York Times. 2019: New York. p. 2. https://www.nytimes.com/2019/12/17/science/ancient-gum-dna.html
DNA from Stone Age woman obtained 6000 years on,
What a 5700-Year-Old Wad of Chewed Gum Reveals About Ancient People and Their Bacteria