One of the most important scientific questions of the early twenty first century is, "what's going on in Antarctica?"
Antarctica is a the largest reserve of ice on the planet, and when (not if) the ice melts, it will raise sea levels by tens of meters. Glub.  (See a new NASA simulation of the effects of the melting ice.)
Just how fast is the ice melting?
This is a complex question to answer. The ice caps are gigantic (miles deep at places), and warmed by the air above and the Earth and sea underneath. Warmer air and water melt the ice, but may produce more new snow. There are liquid rivers and lakes under the ice which erode and melt from underneath. In some places glacier of ice are flowing down to the sea, where they will break up and melt.
It's complicated.
This week a team of British researchers published a map that reflects an important piece of the picture: the heat flux under the ice [3]. This is the heat coming from the Earth's interior, which they show is quite variable across the continent.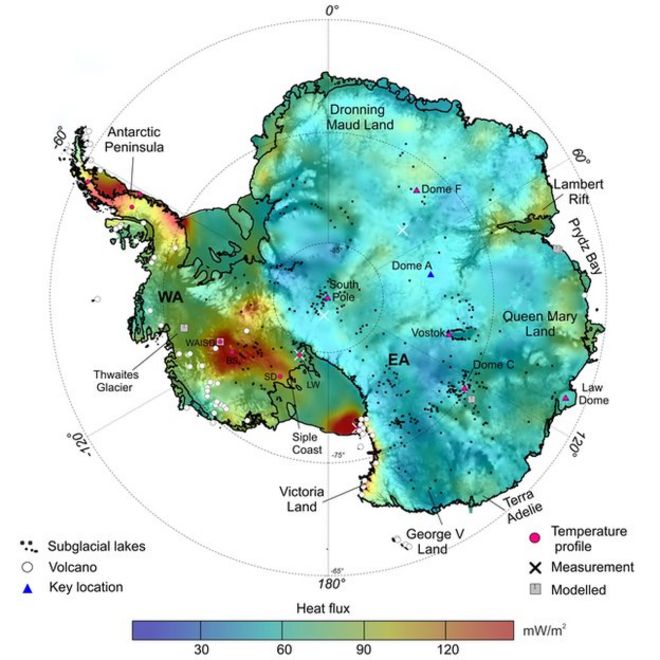 The study used several measures of the magnetic properties of the rock under the Antarctic ice, including surface, air craft, and satellite surveys. Molten rock loses its magnetic field at a specific temperature, so the magnetic measurements can show where the rock cools below this limit. This can be used to infer the temperature at various depths below the surface.
The resulting map shows considerable variation across the continent. The warmest locations will presumably tend to melt more than cooler places (on the underside of the ice).
One interesting point from the map is that West Antarctica is melting faster than other areas, but the heat flux from the Earth is low. This suggests that the melting is due to warmer seas and ice flows, with little contribution from geothermal heat.
This dataset will contribute to many studies of the Antarctic ice. (It will be literally the foundation for many simulations.)
---
Jonathan Amos, Antarctica's warm underbelly revealed, in BBC News – Science & Environment. 2017. http://www.bbc.com/news/science-environment-41972297
Eric Larour, Erik R. Ivins, and Surendra Adhikari, Should coastal planners have concern over where land ice is melting? Science Advances, 3 (11) 2017. http://advances.sciencemag.org/content/3/11/e1700537.full
Yasmina M. Martos, Manuel Catalan, Tom A. Jordan, Alexander Golynsky, Dmitry Golynsky, Graeme Eagles, and David G. Vaughan, Heat flux distribution of Antarctica unveiled. Geophysical Research Letters:n/a-n/a, http://dx.doi.org/10.1002/2017GL075609