In recent years, there have been many reports of stranded whales all around the world.  No one really knows why whales founder, and we don't really know if there are more whales foundering, or if this is a statistical illusion.
The problem is that there is a lot of coastline and shallows, so its hard to know about every stranded whale.  It is also possible that the apparent uptick in strandings may represent an increase in events near populated areas, or improved observation and communications, or some other artifact.
So, just how many whales get in trouble, and where?
This fall, researchers report on an effort to detect whale strandings using satellite data [2].  If this works well, we might be able to assemble some comprehensive data of how many and where whales are beaching.
The key, of course, is high resolution satellite imagery, which is now commonly available with half meter resolution.  This is sufficient to spot whales from space, at least in some cases.
The study compared aerial survey with satellite imagery of a mass stranding of hundreds of whales in Patagonia.  In the images, the whales are easily detected by human eyes, but apparently do not have a simple characteristic spectral signature.  Piles of rotting whales do not all look the same, and do not necessarily look much different from a beach with no whales, at least to an algorithm.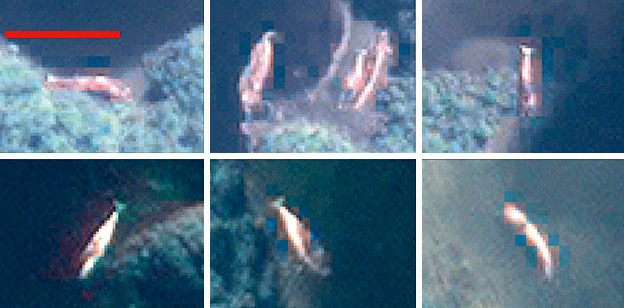 In this study, they had only two images to work with, so it's small wonder that they couldn't get a good algorithm.  There isn't, and probably never will be, a huge collection of images to train from.  So, garden variety machine learning techniques will not "just work", without some serious effort.
Glancing at example images, I'm pretty sure that algorithms should be able to detect and count dead whales.  So, as more data is collected, there will be algorithms.  And that will make it possible to survey large areas and maybe get some solid data.
I was wondering if multispectral data (e.g., IR) might improve the performance of the algorithms, if it were available at sub-meter resolutions.  I don't really know if partly submerged carcasses would have any distinctive signature, probably not.  So, never mind.
Mainly, we need more data, not just a few lucky images.
---
Jonathan Amos, Satellites to monitor whale strandings from space, in BBC News – Science & Environment. 2019. https://www.bbc.com/news/science-environment-50040890
Peter T. Fretwell, Jennifer A. Jackson, Mauricio J. Ulloa Encina, Vreni Häussermann, Maria J. Perez Alvarez, Carlos Olavarría, and Carolina S. Gutstein, Using remote sensing to detect whale strandings in remote areas: The case of sei whales mass mortality in Chilean Patagonia. PLOS ONE, 14 (10):e0222498, 2019. https://doi.org/10.1371/journal.pone.0222498