A68 calved in 2017, and edged very slowly up the coast.  In the last year, she has really picked up the pace, covering roughly 500 km in the last 13 months, which is about 50 meters / hr,  something like 1 / 3 mph.  Not bad for an island!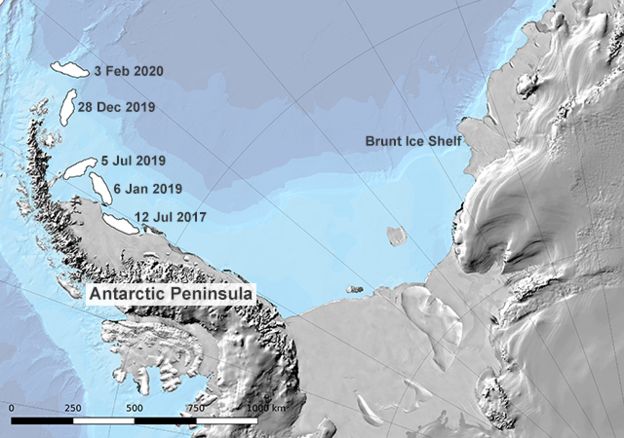 She is about to enter the open ocean, which will mean a lot more stress from wind and wave, and will probably lead to a big breakup.  Soon there will be a whole flock of smaller, but still very dangerous, bergs.
The BBC reports that there are two more large bergs splitting from Antarctic glaciers, part of what may be a speed up of the ice flows into the ocean.  If the big glaciers begin to move to the sea faster, shedding more bergs, this probably indicates a loss of ice mass on the continent, and eventually to rise in the sea level.
Glub!
---
Jonathan Amos, World's biggest iceberg makes a run for it, in BBC News – Science & Environment, February 5, 2020. https://www.bbc.com/news/science-environment-51389690